MadeForFog
New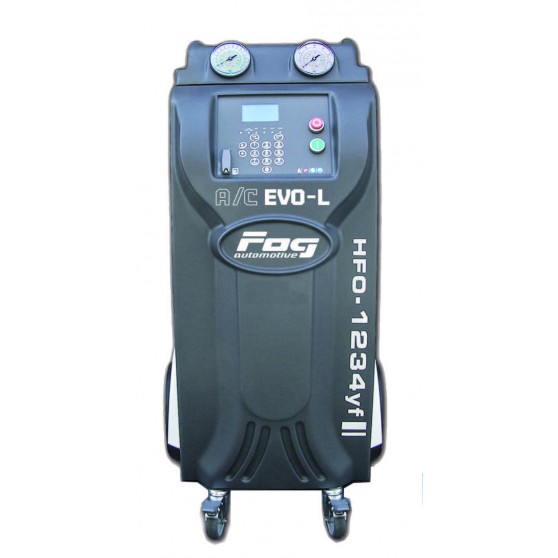 View larger
HFO-1234YF refill station - 3 scales
AC.EVO-L
Passenger Car Light Duty Vehicle Heavy Duty Vehicle
Super-automatic refill station for recovering, recycling and recharging refrigerant HFO-1234YF (3 scales)
R134A Stations
Automatic refill station for recovering, recycling and recharging refrigerant R134ARef. AC.NANO+
Automatic refill station for recovering, recycling and recharging refrigerant R134A
Ref. AC.CUBE 1.0
This product is no longer in stock
Availability date:
Standard equipment
1 power cord
1 x 2.5 m High Pressure hose
1 x 2.5 m Low Pressure hose
1 adapter for refilling the bottle
1 x 24-column thermal printer
More info
TECHNICAL CHARACTERISTICS
Functions: recovering, recycling, emptying used oil, checking tightness, refrigerant charging, injecting new oil, tracer charging, discharging non-condensables, refilling internal cylinders.
Alphanumeric back-lit LCD display (16 characters on 4 lines).
Digital control panel with electronic management to control all the processes.
Operations automatically archived on SD card.
Built-in vehicle database on SD card.
Remote assistance via the Internet network.
Total counter for each cycle.
Class 1.0 HP and LP pressure gauges with identification of operating ranges.
Highly reliable LP and HP hoses, snap-fit coupler and manual opening for the HFO-1234YF.
Mechanical locking for the bottle.
Capacity of the HFO-1234YF bottle: 10 kg.
Recovery capacity of the tank: 400 gr/min.
Two-stage vacuum pump for better results.
3 electronic scales (new oil + tracer, used oil and gas: accuracy of +/- 1g).
Heated belt.
Filter/drier on the oil injection circuit to protect the oil from humidity in the injection tank.
Electronic management of the internal ventilation in compliance with safety standards for flammable fluids.
Data sheet
| | |
| --- | --- |
| Height | 1110 mm |
| Width | 530 mm |
| Depth | 600 mm |
| Weight | 80 kg |
| Power supply | 230 V / AC / 50 Hz |
| Vehicle type | Passenger Car, Light Duty Vehicle, Heavy Duty Vehicle |
| Flag | MadeForFog |
| Bottle capacity | 10 kg |
| Compressor | 12 cc |
| Vacuum pump | Two-stage |