MadeForFog
Best sellers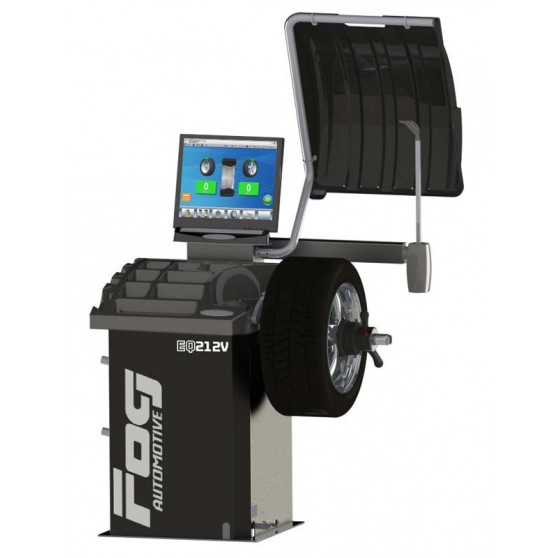 View larger
Laser Video wheel balancer - 2 automatic rods
EQ.212V
Passenger Car Light Duty Vehicle
Laser Video wheel balancer with 2 automatic rods
Laser to work faster
Other laser video models
Other available models
This product is no longer in stock
Availability date:
Standard equipment
1 turntable axle for rims with a central hole (Ø 40 mm)
1 set of 3 cones (Ø 40-62 mm, Ø 54-81 mm, Ø 70-98 mm)
1 balancing weight clamp
1 calibration weight
1 compass for measuring the width of the rim
More info
SHAFT AND FLANGE
The new one-piece shaft(1) design makes it possible to:
work with wheels with much larger dimensions - diameter 8'' (200 mm) to 26'' (650 mm), width 16'' (415 mm), and weight (75 kg).
avoid all the inaccuracies caused by poor centring when the flange is loaded on the shaft.
have very stable measurement process thanks to 3 sensors(2): the values are no longer upset by mechanical links or vibrations.

TECHNICAL CHARACTERISTICS
The automatic laser helps you to apply all types of balancing weights accurately and quickly.
Video wheel balancer with very advanced functions that ensure reliable, accurate balancing thanks to 16-bit technology.
A 17'' monitor and a keyboard enable easy navigation in all the menus.
The motor's low rotation speed (less than 100 rpm) reduces the wear for the various mechanical components and significantly increases the machine's accuracy.
Entering the measurements - offset, diameter and distance between the balancing weights - by turning the wheel simplifies all the parameter settings considerably.
The motor is started automatically by lowering the cover.
The machine has a large platform with 9 compartments for holding balancing weights, cones and tools.

A MULTITUDE OF PROGRAMS
With the SPLIT program you can decide where to place each of the balancing weights, hiding them
behind the spokes, or avoiding all obstacles (valves, etc.).
The ALU-S/ALU-SE mode helps you to position the balancing weights exactly where the measurement was taken.
The MARS mode cuts by a factor of 3 the inherent errors from residuals and from the inaccuracy of user actions.
Technical sheet

Data sheet
| | |
| --- | --- |
| Automatic rod number | 2 rods |
| Rim diameter | 8" (200 mm) - 26" (650 mm) |
| Wheel width | 16" max. |
| Wheel diameter | 34" max. (850 mm) |
| Wheel weight | 90 kg |
| Height | 1500 mm |
| Width | 1130 mm |
| Depth | 1180 mm |
| Weight | 116 kg |
| Power supply | 230V 30Hz 50W |
| Vehicle type | Passenger Car, Light Duty Vehicle |
| Flag | MadeForFog |
| Speed | 98 RPM |
| Accuracy | 1 g |