MadeForFog
New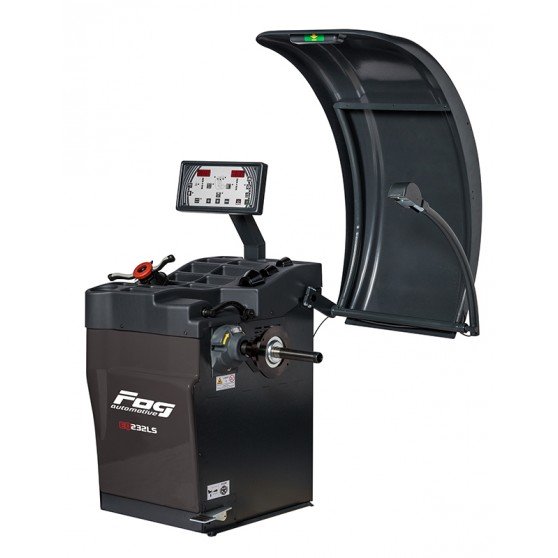 View larger
LCD wheel balancer - 2 automatic rods and 1 sonar
EQ.232LS
Passenger Car Light Duty Vehicle
LCD wheel balancer with 2 automatic rods and 1 sonar
Rim lighting and Laser
Other model with Laser
LCD wheel balancers with Laser and 1 automatic rod
Ref. EQ.231L
LCD wheel balancers with Laser and 2 automatic rods
Ref. EQ.232L
Other available models
This product is no longer in stock
Availability date:
Standard equipment
1 conical plate with centering nut
3 centering cones (Ø 42-65 mm, Ø 54-80 mm, Ø 75-110 mm)
1 balancing weight clamp
1 compass for measuring the width of the rim
1 calibration weight
1 rod for glued masses
More info
TECHNICAL CHARACTERISTICS
The electronic wheel balancers EQ.232LS with dual digital LED display, are dedicated to work on all types of vehicles (motorcycles, cars and light vehicles).
Supplied as standard with the ALUEASY function (automatic recognition offset, diameter), they also benefit from new features (addition of a laser function and internal lighting rim). These balancers are specially designed for workshops dealing with a large volume of tires.
A MULTITUDE OF PROGRAMS
1 standard program, 5 ALU programs, 3 static programs, 2 PAX programs.
SPLIT MODE (masses hidden behind the sticks), OPT MODE (optimization of the masses on the rim) and 2 OPERATORS MODE.
Technical sheet

Data sheet
| | |
| --- | --- |
| Rim diameter | 10" - 26" |
| Rim width | 1" - 21" |
| Wheel width | 500 mm |
| Wheel diameter | 1200 mm |
| Height | 1 830 mm |
| Width | 1 260 mm |
| Depth | 1270 mm |
| Weight | 127 kg |
| Power supply | 230 V / 50 Hz / 0.5 kW |
| Vehicle type | Passenger Car, Light Duty Vehicle |
| Flag | MadeForFog |
| Speed | 8 sec (208 tr/min) |
| Accuracy | 1 g |