New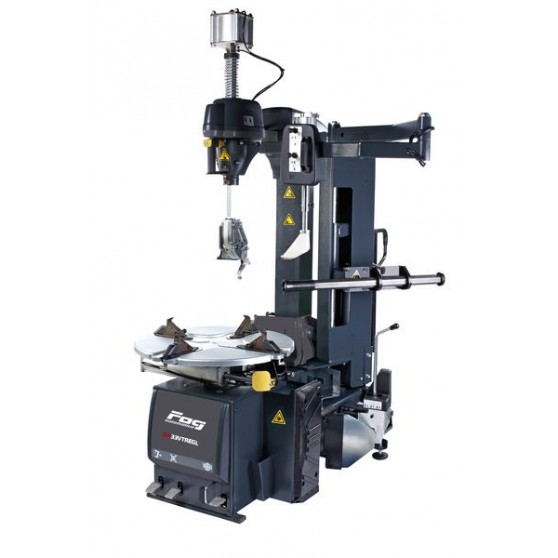 View larger
Tyre changer with speed variator, additional arm, Ergo control and Leverless
DP.33VTREGL
Passenger Car Light Duty Vehicle
Tyre changer equipped with speed variator, pre-assembled additional arm, Ergo control and Leverless
Other tyre changers with dimmer
Tyre changer with speed variator
Ref. DP.23V
Tyre changer with speed dimmer and Ergo control
Ref. DP.23VEG
Tyre changer with speed variator, additional arm and Ergo control
Ref. DP.23VTREG
Tyre changer with speed dimmer, additional arm, Ergo control and Leverless
Ref. DP.23VTREGL
Other tyre changers
This product is no longer in stock
Availability date:
Standard equipment
1 brush
1 tyre changing lever
1 set of protection for jaws, tool-heads and

bead breaker

1 MICHELIN inflating gun
Optional equipment
Tubeless inflation
Plastic tool-heads
More info
TECHNICAL CHARACTERISTICS
Pneumatic tilting movement of the column and of the arm.
Speed variator.
Leverless tool-head system.
Ergo Control system for easy bead breaking.
28'' table with 2 pneumatic clamping jacks.
Simultaneous pneumatic horizontal vertical arm locking.
Pressure regulator with lubricator and water filter.
Extractable pedal group.
Plastic protection to prevent damage to aluminium rims.
Pre-assembled additional arm.
Technical sheet

Data sheet
| | |
| --- | --- |
| Rim diameter | Ext. 12" - 28'' / Int. 13'' - 32'' |
| Rim width | 3" - 15" |
| Wheel diameter | Max. 1200 mm |
| Height | 2 350 mm |
| Width | 1 450 mm |
| Depth | 2 010 mm |
| Weight | 409 kg |
| Power supply | 230 V 1 ph / 50 Hz / 12.5 A |
| Vehicle type | Passenger Car, Light Duty Vehicle |
| Speed | 7.5 - 15 tr/min |
| Operating pressure | 8-10 bars |
| Rotation speed number | 1 speed |