MadeForFog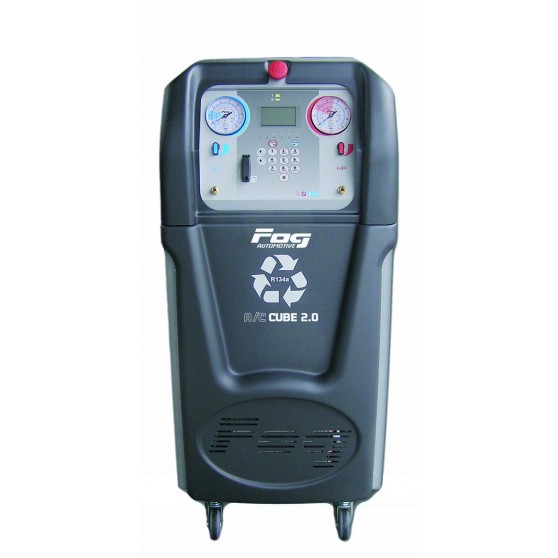 View larger
Connected R134A refill station with high-capacity
AC.CUBE 2.0
Passenger Car Light Duty Vehicle
Super-automatic refill station for recovering, recycling and recharging refrigerant R134A
Other R134A stations
Semi-automatic refill station for recovering, recycling and recharging refrigerant R134ARef. AC.NANO
Automatic refill station for recovering, recycling and recharging refrigerant R134ARef. AC.NANO+
Automatic refill station for recovering, recycling and recharging refrigerant R134ARef. AC.CUBE 1.0
Other HFO-1234YF stations
Super-automatic refill station for recovering, recycling and recharging refrigerant HFO-1234YF (3 scales)
Ref. AC.EVO-L
Super-automatic refill station for recovering, recycling and recharging refrigerant HFO-1234YF (4 scales)
Ref. AC.EVO
This product is no longer in stock
Availability date:
Standard equipment
1 power cord
1 x 2.5 m High Pressure hose
1 x 2.5 m Low Pressure hose
1 adapter for refilling the bottle
Optional equipment
1 x 6 m High Pressure hose
1 x 6 m Low Pressure hose
More info
TECHNICAL CHARACTERISTICS
Functions: recovering, recycling, emptying used oil, checking tightness, refrigerant charging, injecting new oil, tracer charging, discharging non-condensables, refilling internal cylinders.
Alphanumeric back-lit LCD display (16 characters on 4 lines).
Digital control panel with electronic management to control all the processes.
Operations automatically archived on SD card.
Built-in vehicle database on SD card.
Remote assistance via the Internet network.
LP and HP hoses (up to 6 m).
Capacity of the R134A bottle: 20 kg.
Compressor: 12 cc.
Recovery capacity of the tank: 400 gr/min.
Two-stage vacuum pump for better results.
3 electronic scales (oil, tracer and gas: accuracy of +/- 1g).
Heated belt.
Filter/drier on the oil injection circuit to protect the oil from humidity in the injection tank .
2 "komo"-type integrated filters/driers, with simplified access.
Data sheet
| | |
| --- | --- |
| Height | 1040 mm |
| Width | 480 mm |
| Depth | 480 mm |
| Weight | 68 kg |
| Power supply | 230 V / AC /50Hz |
| Vehicle type | Passenger Car, Light Duty Vehicle |
| Flag | MadeForFog |
| Bottle capacity | 20 kg |
| Compressor | 12 cc |
| Vacuum pump | Two-stage |