MadeInFog
New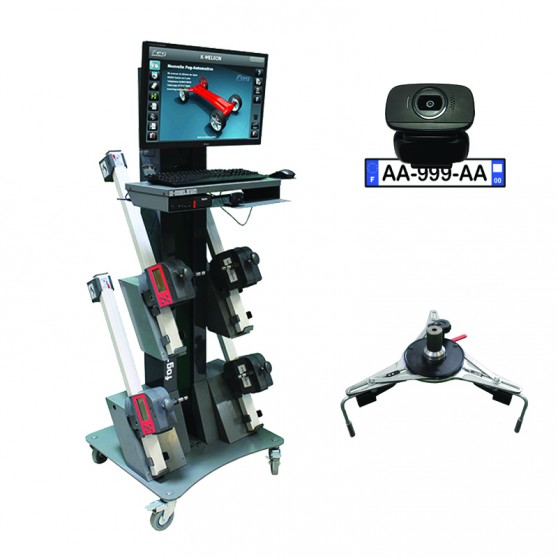 View larger
CCD wheel aligner - Car/Light Duty Vehicle - Encoder and Accropneu clamps
K-MELEON-NG
Passenger Car Light Duty Vehicle
Passenger Cars and Light Duty Vehicles 8 CCD sensor aligner, equipped with an encoder and Accropneu clamps
The accuracy of CCD sensors at the service of the 3D program
Other availbale reference
Passenger Cars and Light Duty Vehicles 8 CCD sensor aligner, equipped with an encoder and 4-point clamps
Ref. K-MELEON
Other wheel aligners
This product is no longer in stock
Availability date:
Standard equipment
4 heads, 8 CCD sensors, with encoder
4 Accropneu clamps
2 mechanical turntables
1 steeringwheel holder
1 brake pedal depressor
PC, colour printer
24''monitor
1 set of spare cables
Camera for licence plate recognition
Optional equipment
Vehicle registration certificate scanner for automatic licence plate recognition
4 quick clamps, 12-24''
2 electronic turntables for maximum steering
Set of 2 PSA compression bars
Online database
More info
DATABASE
The FOG Passenger Cars and Light Duty Vehicles database is incorporated into the K-MELEON.
Data updates are available upon order on a USB key, or freely for customers with a maintenance contract.
MEASUREMENT SYSTEM
The ZIGBEE type of wireless communications protocol is secure, and is therefore unaffected by exterior sources of interference.
The 4 high-performance batteries ensure more than 10 hours autonomy. They are incorporated in the measurement heads and recharged on the unit.
Measurements are made by 4 heads and 8 high-resolution CCD sensors.
With Spoiler mode you can work even if the front beam is cut.
Left/right steering wheel +/- 20°.
Checks can be carried out on all work surfaces.
LICENCE PLATE RECOGNITION
K-MELEON reads and analyses the licence plate. For France, FOG assures you to find automatically the right vehicule thanks to the check between to the national database of vehicle registration certificates and the manufacturer's VIN infos.
SCENARIO MODE
Whatever your speciality and your need: a simple inspection, a front alignment or a precision adjustment,
K-MELEON automatically adapts to your needs, thanks to its scenario mode and gives you the flexibility required to go
back to basics.
UPDATES AND REMOTE ASSISTANCE
The FOG UPDATE system means that you automatically benefit from the latest updates. On each start-up, it connects to the FOG server to check whether new functionalities have been implemented.
K-MELEON is a connected device that can be controlled remotely. This means that, if necessary, you can benefit from
a diagnosis by an FOG expert who can answer your questions and further your training. In this way you can increase
your workshop's profitability day by day.
Data sheet
| | |
| --- | --- |
| Clamp types | Quick clamps, 12 -24" |
| Height | 1800mm |
| Width | 800mm |
| Depth | 760mm |
| Weight | 183kg |
| Power supply | 230 V / AC / 50 Hz |
| Batteries | Lithium-ion 7.4 V / 2.25 Ah |
| Communications | ZIGBEE 2.4 GHz |
| Vehicle type | Passenger Car, Light Duty Vehicle |
| Flag | MadeInFog |