MadeInFog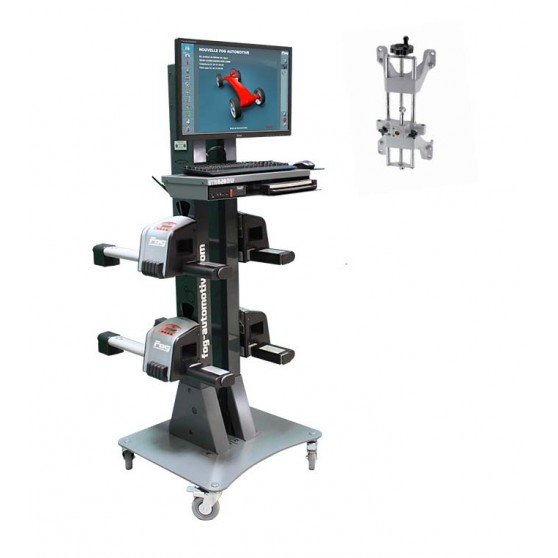 View larger
CCD wheel aligner - Car/Light Duty Vehicle - 4-point clamps
GTR.628RW2500P
Passenger Car Heavy Duty Vehicle
Passenger Cars and Light Duty Vehicles wheel aligner, equipped with 8 sensors and 4-point clamps
Simple, quick and efficient
Other references available
Passenger Cars and Light Duty Vehicles wheel aligner, equipped with quick clamps
Ref. GTR.628RW2500P-GR
Passenger Cars and Light Duty Vehicles wheel aligner, equipped with a vehicle registration certificate scanner and 4-point clamps
Ref. GTR.628RW2500PSCAN
Passenger Cars and Light Duty Vehicles wheel aligner, equipped with a vehicle registration certificate scanner and quick clamps
Ref. GTR.628RW2500PSCAN-GR
Other wheel aligners
This product is no longer in stock
Availability date:
Standard equipment
4 measurement heads, 8 CCD sensors
4 universal clamp, 4 points 12-25''
2 mechanical turntables
1 steeringwheel holder
1 brake pedal depressor
PC, colour printer
24'' monitor
Optional equipment
Vehicle registration certificate scanner for automatic licence plate recognition
2 rear sliding plates
4 quick clamps, 12-24'
Set of 2 PSA compression bars
Online database
More info
DATABASE
The FOG European vehicles database is incorporated into the GTR.628.
Data updates are available upon order on a USB key, or freely for customers with a maintenance contract.
MEASUREMENT SYSTEM
The ZIGBEE type of wireless communications protocol is secure, and is therefore unaffected by exterior sources of interference.
The 4 high-performance batteries ensure more than 10 hours autonomy.
They are incorporated in the measurement heads and recharged on the unit.
Measurements are made by 4 heads and 8 high-resolution CCD sensors.
With Spoiler mode you can work even if the front beam is cut.
Left/right steering wheel +/- 10°.
Camber and Toe checks with hanging wheels by compensation measurements.
Checks can be carried out on all work surfaces.
SIMPLIFIED CONTROLS
The program can be sequenced and all the alignment steps validated thanks to a keyboard incorporated in the measurement heads (no need of a remote control).
The back-lit LCD screen adjusts itself to all environments for an easier reading.
MANUFACTURERS' PROCEDURES
The GTR.628 system incorporates the latest procedures of manufacturers such as Peugeot, Citroën (setting the pitch of the vehicle), Mercedes-Benz (entering the trim of the vehicle), Renault Passenger Car (taking heights under the body shell) and Renault Light Duty Vehicle (taking reference heights either empty or loaded).
Manufacturers' help procedures for adjustments or repairs are available when specified (setting up the weight, compressing suspensions, etc.).
Data sheet
| | |
| --- | --- |
| Clamp types | Universal clamp, 4 points 12-25" |
| Vehicle registration certificate scanner | No |
| Height | 1800mm |
| Width | 800mm |
| Depth | 760mm |
| Weight | 121kg |
| Power supply | 230 V / AC / 50 Hz |
| Batteries | NiMH 7,2 V / 3 Ah Slow and quick charge |
| Communications | ZIGBEE 2,4 GHz |
| Vehicle type | Passenger Car, Heavy Duty Vehicle |
| Flag | MadeInFog |
A SIMPLE, EFFICIENT SYSTEM SUITED TO DIFFERENT USE CASES
GTR.628 fast mode
The operator carries out the rim runout compensation, centers the steering, and goes directly to the « Quick Test » screen, which immediately gives an indication of the condition of the inspected vehicle.
GTR.628 mode standard
The operator accesses standard mode by selecting the inspections to be carried out on the vehicle.