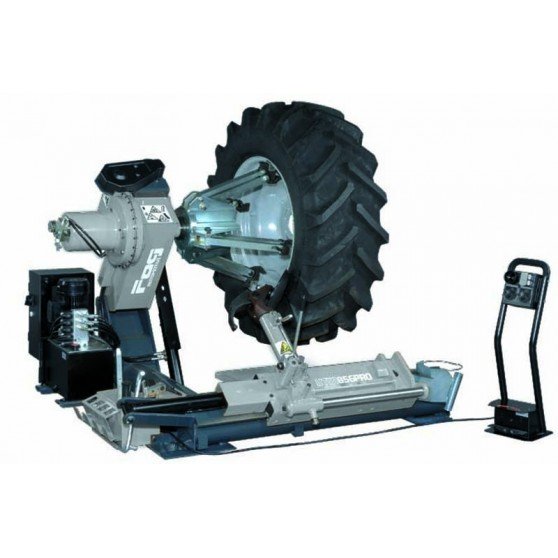 View larger
Automatic - Up to 56" (with extensions)
UTM.856PROA
Light Duty Vehicle Heavy Duty Vehicle
Electro-hydraulic tyre changer with automatic carriage - up to 56'' (with extensions)
Other VI tyre changer
Electro-hydraulic tyre changer with manual carriage - up to 26''
Ref. UTM.826PRO
Electro-hydraulic tyre changer with manual carriage - up to 56'' (with extensions)
Ref. UTM.856PRO
Other available tyre changer
This product is no longer in stock
Availability date:
Standard equipment
1 Rim pliers
1 dismounting lever for ring wheels
1 grease bucket and 1 brush
1 mounting/dismounting aid lever
Optional equipment
Pneumatic bead pressing device.
Extensions to increase the locking capacity to 56''
Tubeless roller for truck and bus wheels
More info
TECHNICAL CHARACTERISTICS
Universal self-centring chuck and locking capacity of 14'' – 46'' - up to 56'' (with extensions).
2-speed anticlockwise or clockwise rotation of the chuck.
Carriage with hydraulic movement and tool-holder arm with automatic side translation.
Mobile control unit.
Technical sheet

Data sheet
| | |
| --- | --- |
| Rim diameter | 14'' – 46'' - up to 56'' (with extensions) |
| Wheel width | 1065 mm max. |
| Wheel diameter | 2300 mm max. |
| Height | 1550 mm |
| Width | 2450 mm |
| Depth | 2300 mm |
| Weight | 762 kg |
| Vehicle type | Light Duty Vehicle, Heavy Duty Vehicle |
| Operating pressure | 8-10 bars |