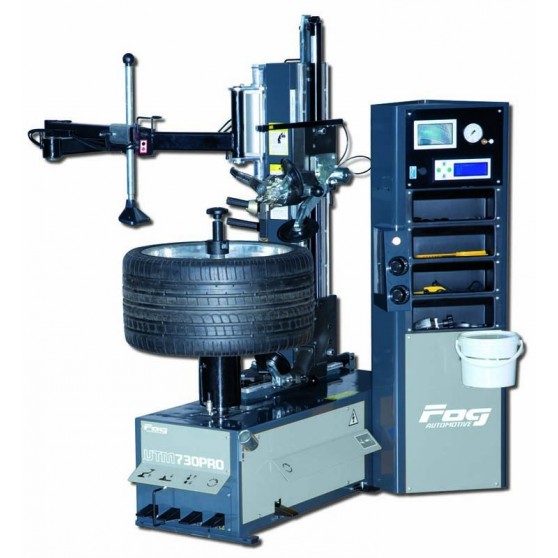 View larger
Fully automatic with hydraulic operation
UTM.730PRO
Passenger Car Light Duty Vehicle
Fully automatic tyre changer with hydraulic operation
Other UTM tyre changer
Variable-speed automatic tyre changer
Ref. UTM.445PRO
Variable speed automatic tyre changer with a Leverless rod and a mounting / dismounting aid
Ref. UTM.445TPRO
Super-automatic tyre changer up to 28'', with a Leverless system
Ref. UTM.710PRO
Other available tyre changer
This product is no longer in stock
Availability date:
Standard equipment
2 bead pressing clamps
1 inflation system
1 tool protection kit
1 core-puller
1 plastic lever for removing the weights
1 valve-puller
1 ring for concave rims
1 set of centring cones and locking handle
Optional equipment
1 adapter for concave rims and rims with no central hole
1 quick clamping handle
1 quick inflation system
1 pneumatic lift
1 kit for UHP and Runflat wheels
More info
TECHNICAL CHARACTERISTICS
Super-automatic tyre changer with hydraulically motion of the work tools.
« REVOLVER » three-in-one tool : combines tools for all processes in a single device (patented).
Pneumatically operated articulated press-beads arm.
Laser beam for accurate positioning of the work tools.
Complete with wheel support plate featuring pneumatic rim clamping system with pressure multiplier (patented).
Wheel rotation by means of two-speed motor (motorinverter) with pedal control.
Leverless mounting/dismounting system.
Clamping with cones by means of pneumatic system with pressure multiplier (patented).
Hydraulically piloted demounting tool, assisted by the lower bead breaking dis, reduces stress on the tyre and simplifies work operations.
Quick, safe mounting system, even for Run-Flat tyres, assisted by the pneumatic lateral bead presser.
Bead pressingdevice to facilitate the operator's work, especially for Runflat and « difficult » low-profile tyres.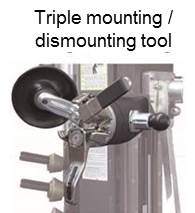 Technical sheet

Data sheet
| | |
| --- | --- |
| Rim diameter | 12" - 34" |
| Wheel width | 16,5" (420 mm) max. |
| Wheel diameter | 49" (1250 mm) max. |
| Height | 1900 mm |
| Width | 2180 mm |
| Depth | 1590 mm |
| Weight | 461 kg |
| Power supply | 230 V 1ph 50Hz |
| Vehicle type | Passenger Car, Light Duty Vehicle |
| Operating pressure | 8-10 bars |
| Wheel locking type | Locking by chuck |