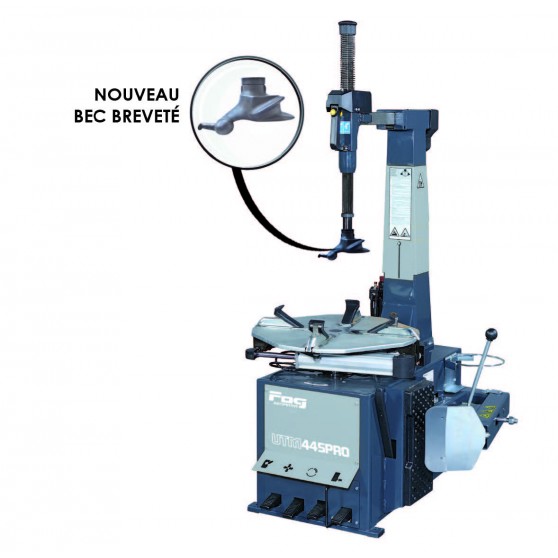 View larger
Automatic swing arm for minimum space requirements
UTM.445PRO
Passenger Car Light Duty Vehicle
Variable-speed automatic tyre changer
Other UTM tyre changer
Variable speed automatic tyre changer with a Leverless rod and a mounting / dismounting aid
Ref. UTM.445TPRO
Super-automatic tyre changer up to 28'', with a Leverless system
Ref. UTM.710PRO
Fully automatic tyre changer with hydraulic operation
Ref. UTM.730PRO
Other available tyre changer
This product is no longer in stock
Availability date:
Standard equipment
1 inflation gun
5 protections for tool-heads
8 protections for jaws
2 protections for the bead-breaker
1 protection kit for tyre-changer lever
1 rim edge protection
Optional equipment
1 set of 4 adapters for 4'' reduction
1 set of 4 motorbike adapters
1 quick-change device for tool-head
1 tool-head for rims with convex spokes
1 pneumatic lift
1 kit for UHP and Runflat wheels
More info
TECHNICAL CHARACTERISTICS
New patented beak for heel support in the best position without additional tools.
Pneumatic swinging movement of the column to the right and of the arm, allowing a significant reduction in space requirements.
Self-centring 4 jaws turntable with 2 clamping cylinders (dual-control flange) for perfect centring of the rim.
Two pneumatic clamping jacks.
Simultaneous pneumatic horizontal vertical arm locking.
High-performance double effect stainless steel bead-breaker cylinder (31 kN).
Powerful bead breaker with articulated blade and enlarged wheel-support.
Adjustable bead-breaker blade angle.
Pneumatic safety valve in accordance with EC standards.
Pressure regulator with lubricator and water filter.
Plastic protection to prevent damage to aluminium rims.
Removable pedals unit.
Turntable can be rotated in 2 directions.
Electric inverter with acceleration ramp.
Technical sheet

Data sheet
| | |
| --- | --- |
| Rim diameter | 11" - 22" |
| Rim width | 13" - 25" |
| Wheel width | 14" (350 mm) max. |
| Wheel diameter | 43" (1100 mm) max. |
| Height | 2100 mm |
| Width | 1340 mm |
| Depth | 1640 mm |
| Weight | 280 kg |
| Power supply | 230 V 1 ph / 50 Hz |
| Vehicle type | Passenger Car, Light Duty Vehicle |
| Operating pressure | 8-10 bars |
| Wheel locking type | Locking by jaw |